Sophos Antivirus Software
Sophos Antivirus End Point Protection
June 2017
Sophos Authorized Partner

Click to verify on
Sophos website

July 2020
Sophos Silver Partner
Sophos Antivirus End Point Protection For Client

Central End Point Protection
Anti Virus For  1 Year
Rs. 1150 + 18% GST
Central End Point Protection
Anti Virus For  3 Year
Rs. 2,300 + 18% GST
Central End Point Intercept X
Ransomware Protection for 1 Year
Rs. 1500 + 18% GST
Central End Point Intercept X
Ransomware Protection for 3 Year
Rs. 3000 + 18% GST

Sophos Antivirus End Point Protection For Servers

Central End Point Intercept X
Advance with Ransomware Protection for Server, 1 Year
Rs. 12000 + 18% GST
 
Sophos Central

It's time your security solutions started talking.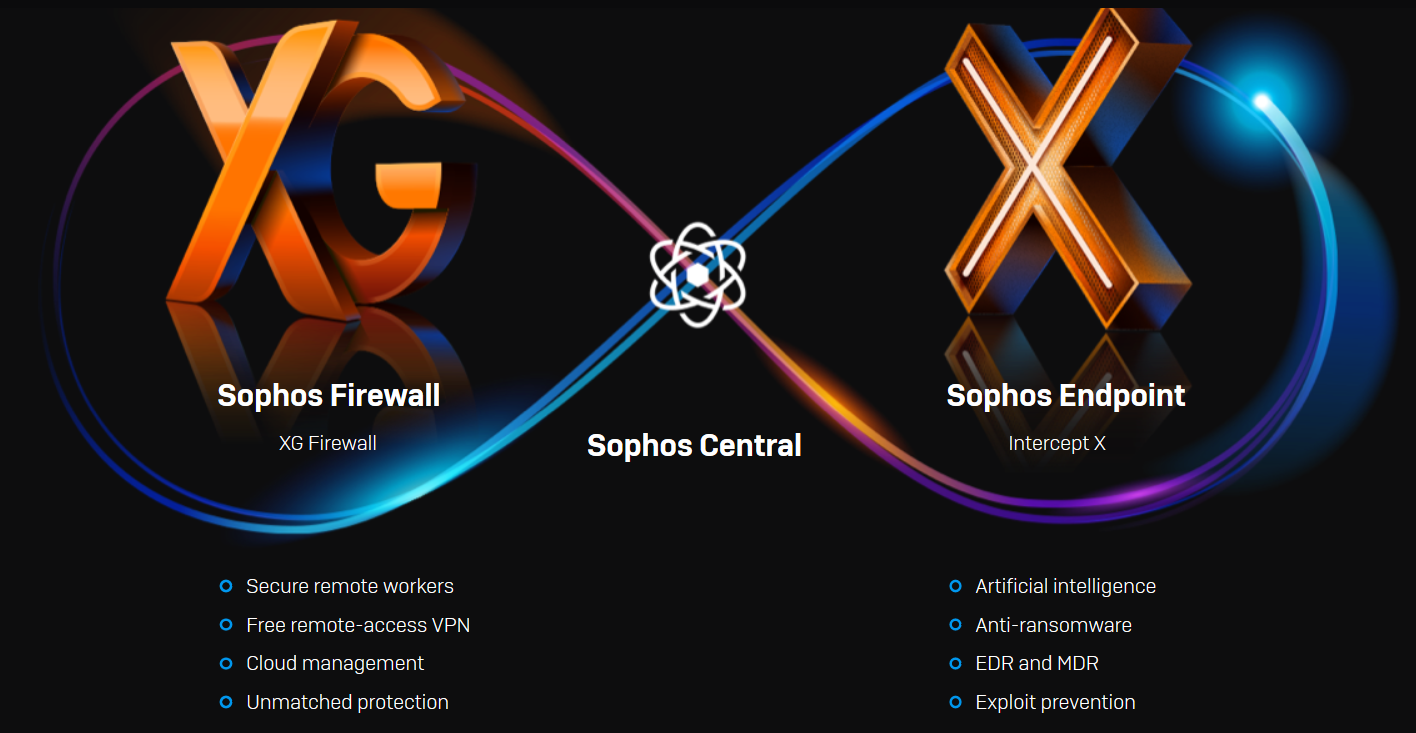 Sophos Central Products:
Central Endpoint:
Central Intercept X Advanced with EDR
Central Intercept X Advanced with EDR and MTR
Central Intercept X Advanced
Central Endpoint Protection
Central Endpoint Intercept X
Central Server:
Intercept X Advanced for Server replaces the Central Server Protection Advanced
Central Intercept X Advanced for Server with EDR

– New!

Central Intercept X Advanced for Server with EDR and MTR

– New!

Central Server Protection
Central Web & Email:
Central Email Advanced
Central Email Standard
Central Phish Threat
Central Device Encryption
Central Mobile:
Central Mobile Advanced
Central Mobile Standard
Central Mobile Security
Sophos Wireless
Legacy Products:
Central Endpoint Standard
More Central Products
Sophos Central Extended Support for XP/Server 2003
"No other company is close to delivering this type of communication between endpoint and network security products."
Stop Ransomware Before It Takes Your Files Hostage
Ransomware is the number one malware attack affecting organizations today. It encrypts your files and holds them hostage until the ransom is paid, causing massive disruption to business productivity.
Sophos Intercept X features CryptoGuard, which prevents the malicious spontaneous encryption of data by ransomware—even trusted files or processes that have been hijacked. And once ransomware gets intercepted, CryptoGuard reverts your files back to their safe states.
Secure your Network with complete antivirus
End point mobile and web security,Shield your users withantivirus protection
keep your data safe
CENTRALLY MANAGED THROUGH THE
Sophos Central Platform
Manage all your Sophos products from a
single, cloud-based console.

[fruitful_tabs type="default" width="100%" fit="false"] [fruitful_tab title="Network security"]
Secure Your Network Secure your Network with complete antivirus, next-gen firewall, Wi-Fi, and web server protection with one appliance that's insanely powerful and ridiculously simple.
Sophos UTM: a hardware (or software virtual appliance) network firewall including web browsing protection, Anti spam filter and Antivirus protection.

Next-Generation Firewall
Web Application Firewall
Secure Web Gateway
Secure Email Gateway

Secure VPN
Secure Wi-F

UTM & Next-Gen Firewall

The ultimate network security package.

Secure Web Gateway

Complete web protection everywhere.

Secure Wi-Fi

Super secure, super Wi-Fi.

Secure Email Gateway

Simple protection for a complex problem.
[/fruitful_tab] [fruitful_tab title="Enduser Protection"]
Enduser Protection
Enduser Protection Suite: an Internet security solution which includes: antivirus, encryption and data protection, web filter, antispam and central management, available for Microsoft Windows Apple OS X,Linux and Unix distributions

Endpoint Anti-Virus
Sophos Cloud

Mobile Control: a mobile content and device management tool, integrating mobile security, for Android,iOS, Windows phone.
SafeGuard Encryption: an out-of-the-box encryption console for Apple OS X

Enduser Protection Bundles

Comprehensive security for users and data.

Sophos Cloud

Sophos Security. Cloud Simplicity.

SafeGuard Encryption

Protecting your data, wherever it goes
Endpoint Protection

On-premise or cloud-based threat protection for Windows, Mac and Linux

Mobile Control

Countless devices, one solution[/fruitful_tab]
[/fruitful_tabs]
Sophos Antivirus Price in India

| Sophos Antivirus Price in India | Price |
| --- | --- |
| Sophos Anti-virus 1 User 1 Year | Rs.2893 |
For more details on Sophos Antivirus Pricing / cost / bulk discount in India
Please Call us on +91 9582907788
or
Email us on sales@itmonteur.net